Starfish Pack donations ensure meals for kids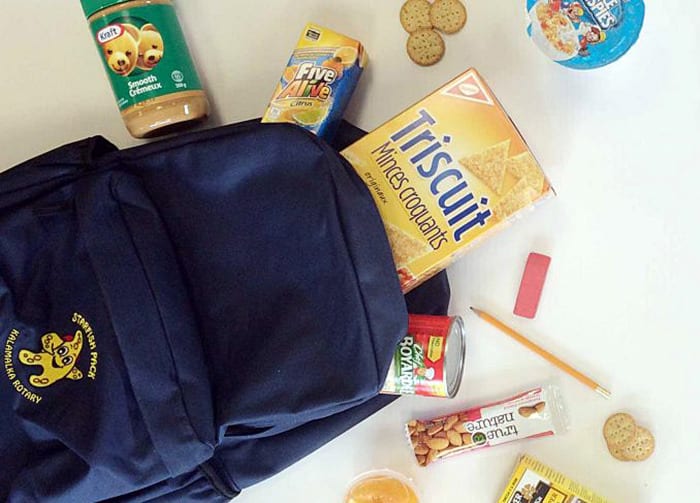 Want to donate to the Starfish Pack program in Mission,  click HERE and when the donate page comes up, select STARFISH PACK from the menu where the word GENERAL is initially listed.
What is STARFISH?
First of all, let us tell you  it is estimated that more than 100 local Mission school students arrive at school each morning having not eaten breakfast and without a packed lunch.
Some children go without food for days at a a time and there are reports  of elementary school students pandhandling strangers in parks and on street corners, begging for money to get something to eat, stealing for each other's backpacks at school.
Sounds like what happens at inner city schools in big cities or Third World Countries dealing with extreme poverty.
While in school, breakfast and lunch programs provide a basic level of food security during the school week for some students, but during weekends many of the children who rely on those school programs often arrive hungry at school on Monday mornings.
STARFISH PACKS, which provides two breakfasts, two lunches, two dinners and snacks for local children in need to take home from school every weekend,  is 100 per cent community funded and staffed. With no paid staff and no government funding, the program relies entirely on local community support for both funding and volunteers.
"We don't add a single new student to the program until we have 100 per cent of the funding for the entire school year in our hands and a team of volunteers committed to support them," said Janet Chalmers of the Rotary Club of Mission (Sunrise).
What started in a single school in Abbotsford in the spring of 2013 has grown to over a dozen BC communities. Starfish Packs will be delivered this school year in Mission, Abbotsford, Surrey, Chilliwack, Delta, Aldergrove, Langley,  Coquitlam, Maple Ridge, Pitt Meadows, Port Coquitlam, Vernon and Williams Lake. All local donations remain in the communities where they are made.
Dave and Linda Bensmiller, owners and operators of Over the Top Catering, were the first business in Mission to step forward to sponsor a backpack for a year.
"We are proud to help with the Starfish pack project. It fits right in with our philosophy of 'everyone eats' and might we add, 'every child matters.' It is important to us that kids get enough to eat as it will result in better learning outcomes and a stronger community."
Other local companies soon joined in.
Jim Shaw, manager of Save On Foods in Mission said "Save On Foods is committed to supporting the communities we serve. When the Rotary Club approached us for support we contacted our social partners in the community to confirm that the starfish program was indeed an area of opportunity and possibly a chance to close a gap in the very important goal of helping support children in our town. Once we had confirmed the need it was a resounding yes to support the starfish program."
Sanjay Gulati, executive director of the Mission Community Services Society said his organization is "excited to be part of the Starfish pack in partnership with Sunrise Rotary to bring about social change to support our children with nutritional food. This fits into our vision of Helping People, Changing Lives, Building Community."
At a cost of $525 per child for the school year, the program provides six meals in each weekly backpack.
To find out more, go to www.starfishpack.com. To make an online donation to the Starfish Backpack program at Mission Community Services, see the first sentence of this story,  email to [email protected] or call 604-826-3634 for more information.
If you don't wish to donate online, the MCSS front desk at our Second Avenue office next to Mission Museum is equipped to accept a variety of donations, from debit card to credit card and cheque or cash.